Leading off today: St. Raymond's guard Isaiah Washington has been selected Mr. New York Basketball for 2017 after averaging 26 points and six assists in his senior season.
The Basketball Coaches Association of New York made the announcement Tuesday.
Washington is St. Raymond's all-time leading scorer at 1,410 points, including 48- and 54-point performances this season.
Washington has verbally committed to the University of Minnesota, making him the second consecutive Mr. New York Basketball to head to the Big Ten. Maryland freshman Kevin Huerter earned the top honor in 2016 following his senior season at Shenendehowa.
Binghamton, version 1.0: I caught 14 of the 15 NYSPHSAA boys basketball tournament games this weekend in Binghamton, missing only the opener -- which was a slight improvement from my typical journeys to Glens Falls, where I usually made it to the arena midway through the second game.
And that, my friends, is the only comparison I'll make between the two cities following the first year of a three-year contract to play semifinals and finals in Binghamton. I never had more than minor quibbles with Glens Falls, and that's more or less my feeling after my first taste of basketball at Floyd L. Maines Veterans Memorial Arena.
And if you throw out that fact that I paid $8 for easily the worst concession-stand "pizza" (?) I've ever tasted, I'd actually characterize my take on Binghamton as positive and admit to being bullish on returning in 2018.
That's not to say there weren't glitches, as noted yesterday in the Press & Sun-Bulletin's post mortem, but the tournament committee and the broader community can be proud with regard to executing the plan as the first host other than Glens Falls since 1981.
Indisputably, parking was a problem -- especially on Friday. Parking is always going to be at a premium at a downtown venue during working hours, and getting 2½ feet of snow dumped across Broome County beginning Tuesday robbed the area of even more precious parking spots. Parking was available Friday at NYSEG Stadium, with shuttle service to the Arena.
"Parking was an issue, even worse with the snow -- not much we could do about that," Ben Nelson, Section 4's Interscholastic Sports Coordinator, told the paper. "Those who took the shuttle seemed to like that. I'm not sure word got out far enough for that. When you send (notification) to the coordinator and the school, it doesn't always get out to everybody."
Beyond that, hiccups were minor. How harshly can you grade a venue because the PA system cuts out before the last three words of the national anthem before one of the games?
Presentation was a plus. Fans coming through the main gates were greeted in the lobby by beautiful banners customized for each of the 20 participating schools. Tournament logos adorned the playing floor. Pregames for the finals were snazzy, with players highlighted in spotlights and high-energy PA work.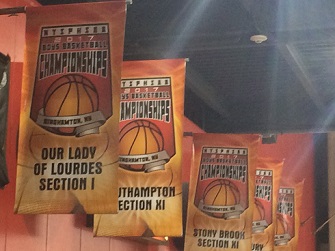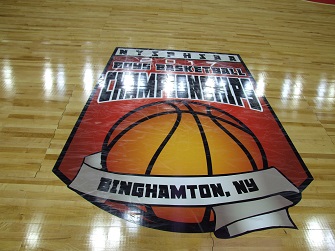 "I don't know what we'd change drastically," Nelson said. "The teams seemed to like it, players liked it. We can't control weather and we can't control parking. ... I guess our criteria was, did they have a good time? Everything we're hearing was, they did."
It's worth noting that attendance was relatively low, even with two Section 4 teams (Class C Moravia and Class D Newfield) reaching the semifinals for the first time since 2009, coming in at 10,531 according to NYSPHSAA Executive Director Robert Zayas. Not since 2012 had fewer than 12,500 attended a tournament in Glens Falls, and last year's figure was 15,488.
However, the attendance figure comes with an asterisk since Friday was conducted as a single six-game event rather than the traditional a pair of sessions, probably accounting for a difference of 2,000 or more fans. Too, this wasn't the year for high-profile players or intriguing team matchups.
"I've been doing this for 15 years, 10 in New Mexico and the last five in New York, and there's no better predictor for tournament attendance than matchups," Zayas said. "If you get teams that traditionally travel well, attendance spikes, or if you get local teams. If you get a Double-A team that makes it into the championship and they don't travel well, then attendance is going to reflect that."
In addition, fans from two schools that do travel well -- Jamesville-DeWitt and Moriah -- were split because their girls teams were competing in Troy. The commute wasn't nearly as difficult when the boys tournament was in Glens Falls.
On that same topic, splitting the basketball championships weekend between Binghamton and Troy certainly does no favors for print and electronic media trying to cover schools