By Elio Velez
NYSSWA Contributor
NEW YORK -- Erasmus Hall senior running back Andrew Howell stepped out of his bed on Tuesday morning with a confident feeling heading into the PSAL city championship game.
The Dutchmen were on the losing end of the title game in four consecutive years. That was going to change according to Howell.
"I woke up in the morning and felt like a champion," Howell said. "I rolled out of bed and woke up and said, 'Let's go win this. Let's go break this curse and go have some fun.'"
The Dutchmen established a strong running game and displayed a stingy defense Tuesday night to capture the PSAL city championship with a 34-7 victory over top seed South Shore at Yankee Stadium in the Bronx.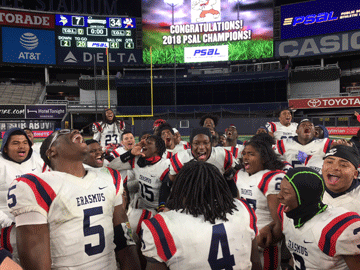 Photos by ELIO VELEZ
Young and hungry are just some of the words to describe a team that helped to erase the ghosts of the past. Erasmus Hall ended the season on a nine-game winning steak with the only loss coming against the Vikings back in Week 3.
That defeat shook the mindset in a positive way. The Dutchmen was going to win games with an identity of smashmouth football and strong defense according to coach Danny Landberg.
"I couldn't be prouder of a team. This was the craziest team I have had to deal with probably in my entire life, Landberg said, grinning. "I believe it's why we won. They are nuts. We all had to grow up and stand up on our own two feet and man up."