Leading off today: Friday night's controversial ending to the Federation boys basketball game between Long Island Lutheran and Archbishop Stepinac extended into Saturday when LuHi staged an on-court protest between the first two games of the morning in Glens Falls.
Some 25 members of the LuHi delegation stood arm-in-arm alongside the court in front of the scorers table after the awards ceremony for one of the Class B semifinals. They remained there in silence for just over three minutes and then left the Cool Insuring Arena court when asked to do so.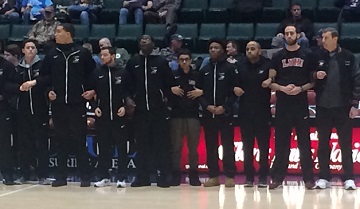 Minutes earlier, the Crusaders learned that their protest of a loss in Friday's semifinals had not been upheld by Federation officials. The decision was roundly criticized by LuHi coach John Buck.
"It shows a lack of courage to set a precedent and correct a mistake," Buck said.
The error was related to the number of timeouts LuHi called. The Crusaders were hit with a technical foul with 8.3 seconds left and the score tied after the scorers table informed officials that LuHi was out of timeouts. Stepinac made those free throws and two more after a foul to close out the 76-72 win and advance to Saturday night's final against PSAL champion South Shore.
The LuHi coaches reviewed video of the game late Friday and determined that the mysterious sixth timeout was actually one called by Archbishop Stepinac 2:21 into the first quarter to avoid a turnover under defensive pressure. That timeout was recorded into the official book as being charged to Long Island Lutheran.
LuHi officials made their case to the tournament committee Saturday before the start of the day's seven games. After a lengthy discussion, the committee declined to order that the final 8.3 seconds be replayed.
"My interpretation is that we can't overturn a clerical mistake," said Jenny Smith, the basketball coordinator for the New York Association of Independent Schools, the organization LuHi represented this weekend.
Buck and AD Todd Huebner conceded that the mistake could have been caught at halftime, when coaches usually confer with the scorers table to check on timeouts and personal fouls. "But when you don't use a timeout in a half, you don't think you need to check," Huebner said. "It's frustrating because the kids suffer. You want the kids to decide the game, not a clerical error."
Added Buck: "In the history of the United States, if something is wrong, you stand up for it."
Analysis: Needless to say, Twitter exploded Friday night and again early Saturday as word of the controversial ending and then the unsuccessful appeal spread. The New York State Sportswriters Association's Twitter account generated more organic impressions off a serious of Saturday morning tweets than it did for the previous two weeks combined.
Multiple people commented on behalf of Long Island Lutheran, asking the Federation tournament committee to "do the right thing."
In a nutshell, that's the problem; the tournament committee did do the right thing. As distasteful as it probably was to some, they had no choice but to turn down the protest. There's no